Deciding the look
This is your starting point and the basis of any floral design project, how do I want it to look and feel? The answer to this is a culmination of personal taste and the occasion. For instance a corporate or promotional event may lead the flower design in a particular direction because of branding, tone or client Another important consideration is to draw inspiration from the venue, perhaps it has strong architectural features which you would like to work with or compliment? That said a really striking design statement can be made to decorate a classic or period venue with very contemporary flowers, or transforming a clinical contemporary space into a wild, rambling woodland! The beauty of design is, if it is done well then anything is possible.
Flowers and Props
Its a chicken and egg scenario here, sometimes the flowers lead you to seek a specific vase or container, or fabulous container will influence the floral design, which direction to go is where the florist's skill and experience come in. You need to consider the working environment, does the space have a tall ceiling? then you may need to consider tall table centres or larger pedestal arrangements. Are there natural areas that inspire you to create something really special? When it comes to colour schemes it is worth remembering that some flowers aren't available in particular colours so this may limit your options.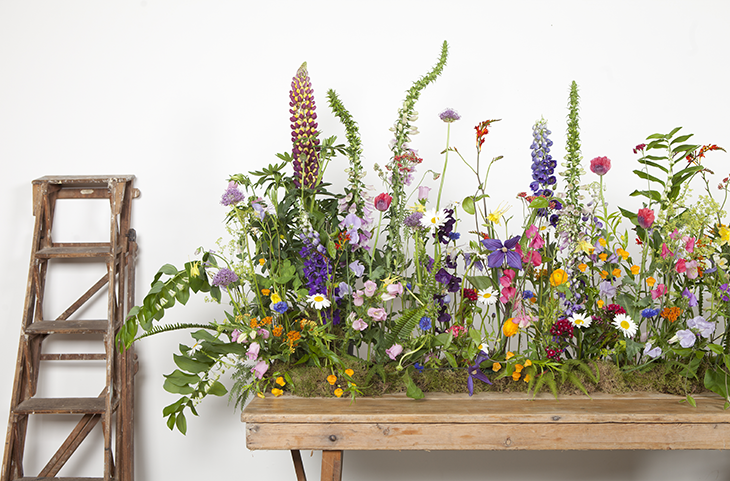 Moodboards and samples
Once we have been through the process of deciding on a look, selecting specific flowers and props we would put together a proposal and mood-board. Bringing all these elements together within a proposal really helps both the client and the florist to visualise the concept, it is at this stage we would make any necessary adjustments and get a much clearer understanding of cost. Ideally you would have a budget allocated for flowers that you share at the beginning of the proposal, this allows us to set boundaries and make clear decisions during the design process. We use our imagination and floral design experience to make the most out of the budget that has been allocated.
Preparation and ordering
Usually the fortnight before the big event we would place our flower order with our suppliers and the flower market. We get the best prices if we can order early, however, as the cost of flowers fluctuate daily it is critical for the florist to make sure they have budgeted for possible pricing changes. We also make a start on getting our props cleaned, oasis'd, painted, polished and ready for display. The week leading up to the main event can be challenging as flowers arrive on different days and we need to ensure they are blooming and look their best for the day, lilies or amaryllis are extremely challenging to get 'just right'! Roses need a couple of days to relax and open. Once the flowers are taken care of it's time to assemble the team and get them briefed and ready for action!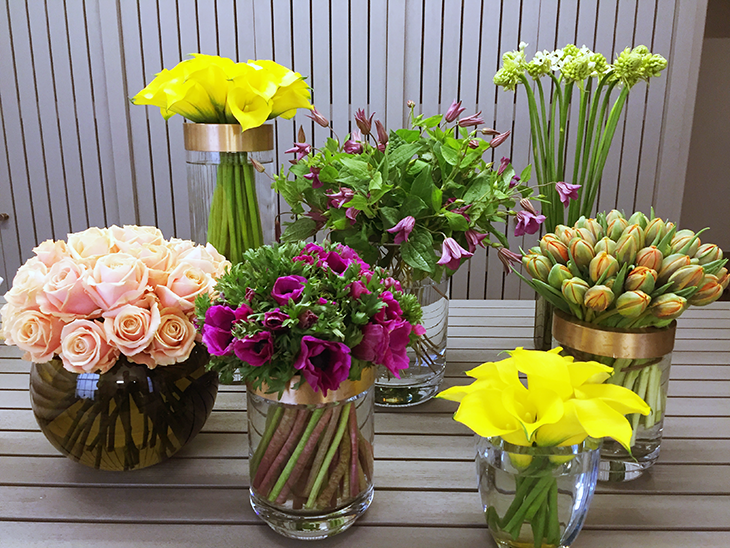 Showtime
The big day arrives and we're ready for action, it's always an early start, loading up and getting ready for install. Once on site we move swiftly bringing in the flowers and props and putting everything in place. Most small decorations can be made in advance, but for the best results the big complex installations need to be made on site in situ. The culmination of weeks or months of work can be a stressful, emotional process but finally seeing all the ideas, planning and process come to fruition is a truly satisfying feeling that you never tire of. Once the event or party is over all that is left for us to do is tidy up and disappear like we were never there.