Petal to the Metal Blog
Latest blog posts about the love of flowers and being a florist in London.
So often I get asked for advice and recommendations on what are the best flowers for a specific location or time of year.. I hope this little blog helps.
What are the best flowers for a wedding?
With wedding flowers, I always approach with three main factors in mind:
design – personality – season.
The best choice of flowers will reflect you on your special day. From wild and colourful to natural and demure, a consultation with your florist will ensure that your wedding flowers are as unique as you are. Work with the seasons. A wild, natural design might include English garden flowers peppered with lavish foliage and scented stems like eucalyptus. Early summer brings delicate sweet pea and the trendiest of wedding flowers, peonies. Late summer we are blessed with sultry cosmos, romantic nigella (also known as love in a mist flower) and vivid, spirited cornflowers. A bold design can include Hydrangea, sprightly delphinium, stunning alliums and the flower of love, roses. A striking design in winter might include pretty amaryllis and hellebores with autumnal foliage in a range of rich, burnt colours. Spring brings the fragrant flowers, hyacinth, narcissi, tulips, the stunning ranunculus and anemone.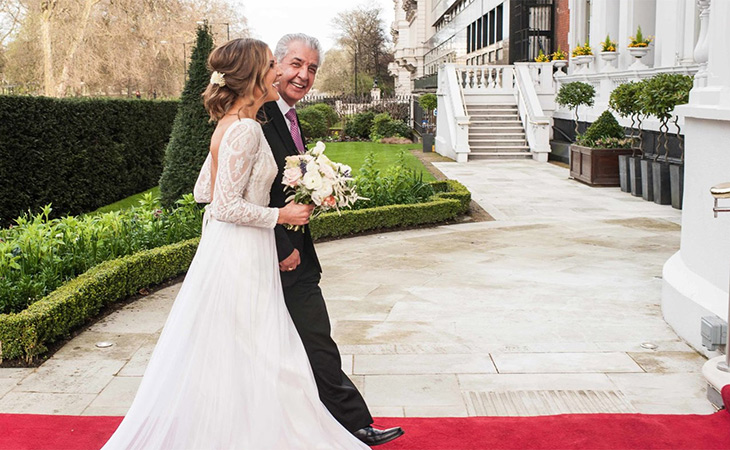 What are the best flowers for my home?
Flowers for your home are personal and so go with what suits you as well as where you want to place them. A hallway might call for something tall and fragrant like lilies. They last really well and look great even before they have blossomed. Roses come in so many styles and colours. Sticking with the season is always kinder on the pocket and environment. Early daffodils, tulips, pretty ranunculi and narcissi for spring and in summer hydrangea always look stunning. Pretty little flowers like sweet pea are short lived but so worth the indulgence in my opinion.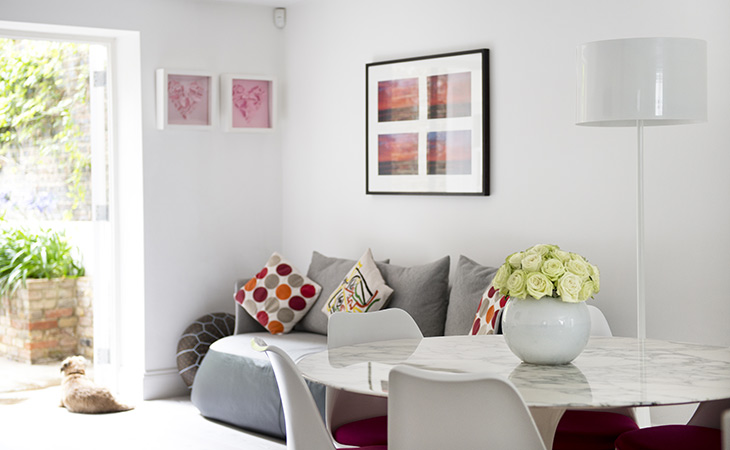 What are the best flowers for a funeral?
A delicate subject but one worth discussing here. The best possible option is always to make it personal. Is there a flower they loved? White is a traditional choice but we are now looking at more colour and variety to go with loud and colourful characters. Fragrance is popular too. Rosemary has been long associated with remembrance. Delicate hand-tied rosemary bouquets or sprigs of rosemary in your flowers. Calla lilies are a popular choice. As an extra special touch, a planted wicker basket for each family member to take home containing flowering plants which will re-flower at the same time each year.
What are the best flowers for my office?
Corporate spaces, restaurants and hotels demand eye-catching displays with longevity. You don't want something which will look limp and withered after a couple of days! Roses are strong and reliable. Lilies, amaryllis and delphinium work well in the summer months alongside the spectacular foxtail lily, eremurus and stunning, persevering allium. Hydrangeas in hot pink or deep purple in summer and delicate ranunculi in spring can stand alone as a stunning masterpiece or mixed with lush green foliage. Be aware that some foliage is not so abiding so avoid things like mimosa foliage. For a long-lasting display go for something like eucalyptus, camellia, laurel and pittosporum.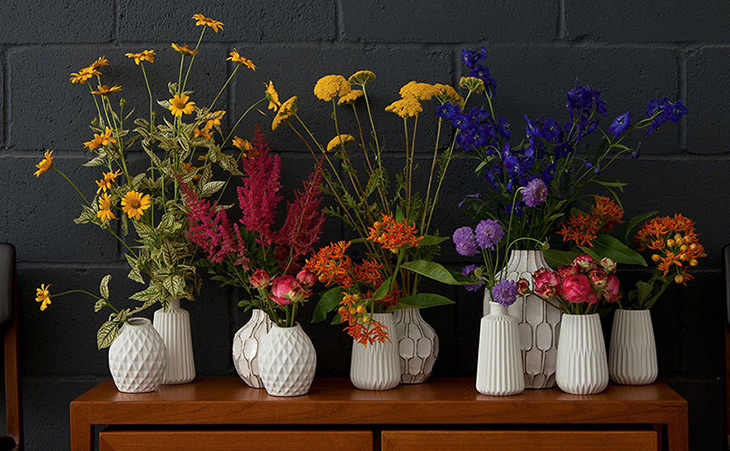 What are the best flowers for a gift?
All flowers are a thing of beauty when they are a gift. Perhaps it's more the sentiment and love they represent. A bunch of flowers will add to any room and any heart. From humble, wild flowers, freshly picked to expensive, long stem roses. You can rarely go wrong. The best choice is making it a reflection of the recipient. A loud and colourful character will probably appreciate bold and vibrant flowers. An earth mother might prefer wild and whimsical. Keeping it all seasonal of course. A good local florist would be able to help you put together a bouquet given any personality. But the most important thing is that they came from you, and what a wonderful gift that is!
Deciding the look
This is your starting point and the basis of any floral design project, how do I want it to look and feel? The answer to this is a culmination of personal taste and the occasion. For instance a corporate or promotional event may lead the flower design in a particular direction because of branding, tone or client Another important consideration is to draw inspiration from the venue, perhaps it has strong architectural features which you would like to work with or compliment? That said a really striking design statement can be made to decorate a classic or period venue with very contemporary flowers, or transforming a clinical contemporary space into a wild, rambling woodland! The beauty of design is, if it is done well then anything is possible.
Flowers and Props
Its a chicken and egg scenario here, sometimes the flowers lead you to seek a specific vase or container, or fabulous container will influence the floral design, which direction to go is where the florist's skill and experience come in. You need to consider the working environment, does the space have a tall ceiling? then you may need to consider tall table centres or larger pedestal arrangements. Are there natural areas that inspire you to create something really special? When it comes to colour schemes it is worth remembering that some flowers aren't available in particular colours so this may limit your options.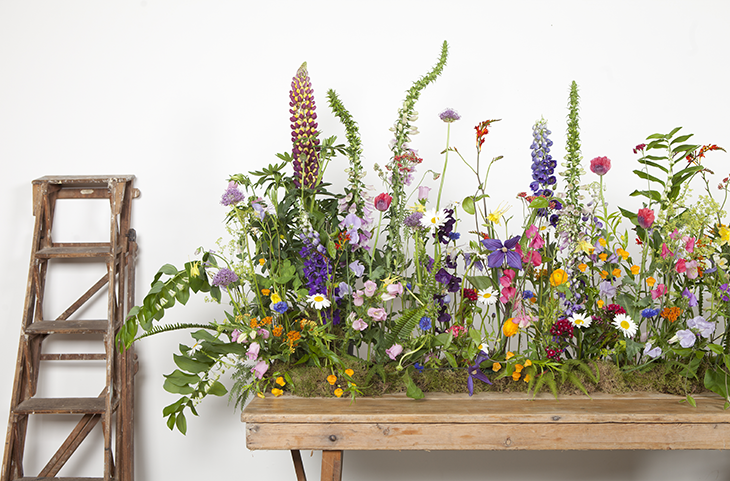 Moodboards and samples
Once we have been through the process of deciding on a look, selecting specific flowers and props we would put together a proposal and mood-board. Bringing all these elements together within a proposal really helps both the client and the florist to visualise the concept, it is at this stage we would make any necessary adjustments and get a much clearer understanding of cost. Ideally you would have a budget allocated for flowers that you share at the beginning of the proposal, this allows us to set boundaries and make clear decisions during the design process. We use our imagination and floral design experience to make the most out of the budget that has been allocated.
Preparation and ordering
Usually the fortnight before the big event we would place our flower order with our suppliers and the flower market. We get the best prices if we can order early, however, as the cost of flowers fluctuate daily it is critical for the florist to make sure they have budgeted for possible pricing changes. We also make a start on getting our props cleaned, oasis'd, painted, polished and ready for display. The week leading up to the main event can be challenging as flowers arrive on different days and we need to ensure they are blooming and look their best for the day, lilies or amaryllis are extremely challenging to get 'just right'! Roses need a couple of days to relax and open. Once the flowers are taken care of it's time to assemble the team and get them briefed and ready for action!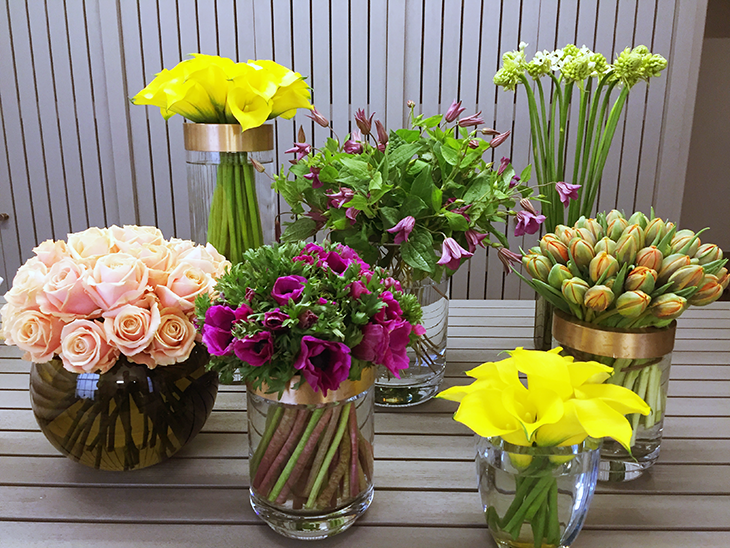 Showtime
The big day arrives and we're ready for action, it's always an early start, loading up and getting ready for install. Once on site we move swiftly bringing in the flowers and props and putting everything in place. Most small decorations can be made in advance, but for the best results the big complex installations need to be made on site in situ. The culmination of weeks or months of work can be a stressful, emotional process but finally seeing all the ideas, planning and process come to fruition is a truly satisfying feeling that you never tire of. Once the event or party is over all that is left for us to do is tidy up and disappear like we were never there.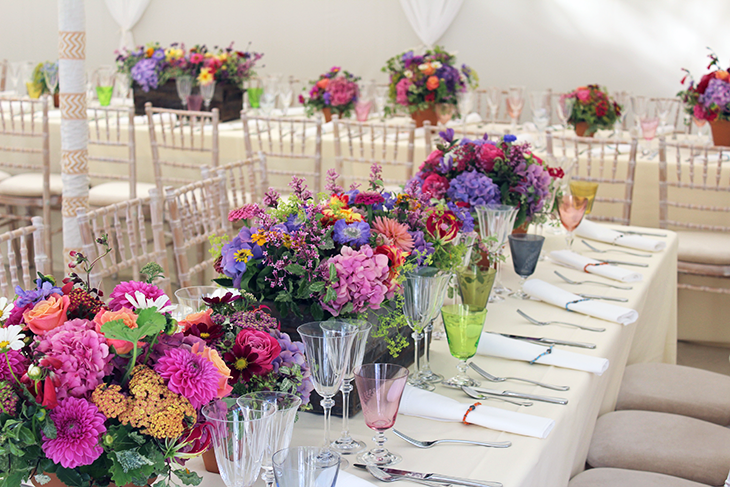 Are you planning an event for your business? Not sure where to start and how to begin? Then let me help you! Corporate events are a huge part of the events industry and for a florist in a city like London the opportunity to work on a range of events are huge.
There are many reasons for a corporate event, Corporate anniversary, Internal awards, Product launch, Financial reporting, Summer/Christmas or seasonal parties. But whilst the reasons for the event may vary the overall approach and tone is quite similar and consistent.
Starting out
Unlike a private event or a wedding which are far more personal and emotional a corporate event requires a more measured approach, often you will be organising a corporate event against a set of preferred objectives and goals. With this in mind it is important you do two key things;
Write up your event brief.
Get the right people on board.
The Brief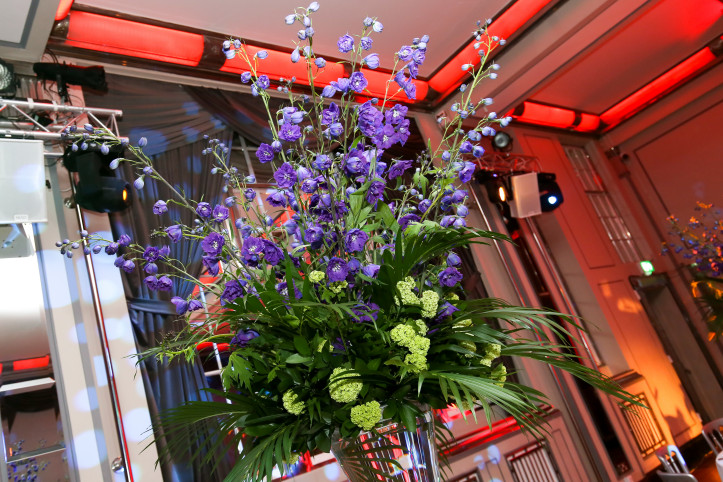 Whatever the reason for your event is make sure that you have a clear idea of what you are communicating to your audience. Do you want to be fun, quirky and creative or does the event require a more formal approach?
For the florist it is important that a clear client brief is communicated as it helps guide all the components along the same path. Things to include in the brief would incude; Venue. Guest numbers. Event format (Cocktails & Canapes or sit down dinner) Date (Obvious I know). Brand identity. Specific colour requirements. Language & tone of the event and last nut not least, Budget.
Answers to these questions will help enormously and ensure that we very quickly arrive at a design quickly and on budget.
Bringing it all together
Flowers are one part of a larger picture but all the components need to work together and in order to do this it is often very helpful to bring an event planner on board to help achieve this.
Caterer's, Lighting, Music, AV, Security are all important components so be prepared to research and get that EXCEL spreadsheet ready. As with most suppliers florists are often recommended by caterers, venues or the event planner but it doesn't hurt you to look around for yourself.
Trust the experts as they will help guide you and select the most suitable people for the job, be confident they understand your needs and have experience relevant to the task in hand. With the right people on board you wont go wrong.
Success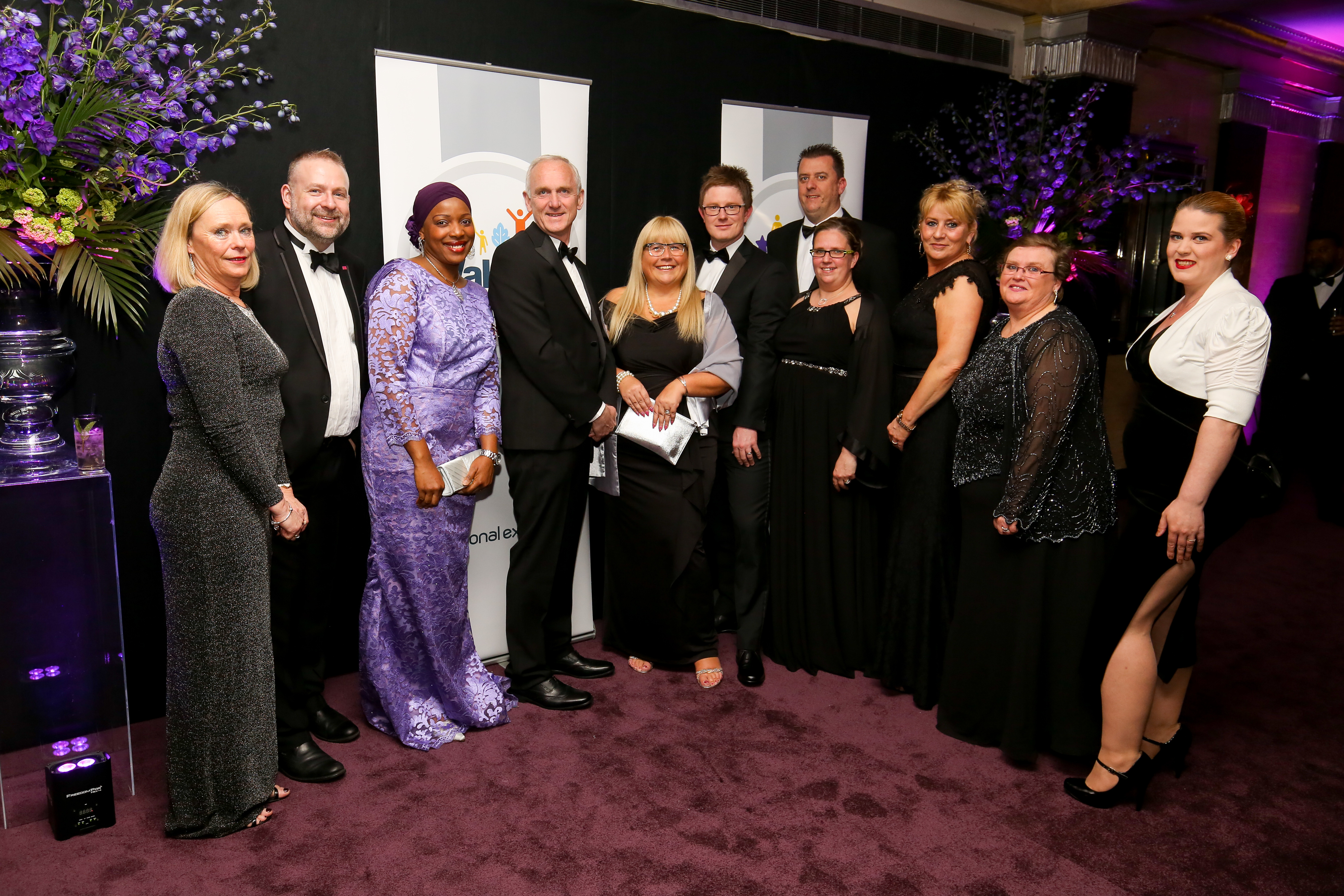 The delivery of a successful corporate event is a very satisfying achievement. For a supplier to the events industry it is so rewarding to work with an organisation that values what can be and invests in bringing great teams together to create something special. The reward for an investment like is a very positive, happy and responsive team or guest, without question details such as flowers are noticed and help communicate a positive message.
If you are planning a Corporate Event and would like to discuss your flowers then please drop us a line here and we will more than happy to discuss this further with you.
All the best
Paul x